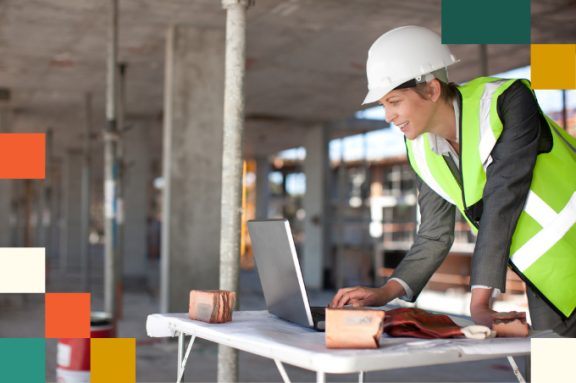 Most construction projects are managed and executed by three leaders with three distinct roles: the architect or engineer designs the project, the general contractor oversees daily operations, and the construction manager manages building processes across teams.
Construction management is a complicated field that requires extensive knowledge and experience within the construction industry, as well as business management skills. No matter what type of project or how it must be delivered, construction management is crucial to successful project outcomes that meet and exceed customer expectations.
With so many moving pieces and lots of personnel to schedule and coordinate, construction management tasks often require the help of digital tools to maintain project visibility and accurate communication throughout the project's execution. And since construction employment numbers have not recovered since the pandemic, a straightforward, precise construction management approach is more critical than ever.
This article will explore the challenges and expectations that construction managers face, the phases of construction management, and how construction management software can help future-proof construction firms in light of increased technology across the building sector.

What is Construction Management?
Construction management reflects the effective management of aspects of building projects. These include managing the project's schedule, cost, safety, scope, quality, and function. No matter what type of project or how broad the scope is, a construction manager's responsibility is to oversee each aspect of a construction project from start to finish.
Although they are often confused, construction management and construction project management are closely intertwined. While construction management refers to the construction manager's role in completing projects, construction project management refers to the practices, processes, and tools involved in managing, scheduling, and identifying specific construction tasks.
Construction Management Phases
No matter the scale or scope, the five phases of construction management help form a plan for the direction and execution of each project. Understanding the construction management phases provides a structured process that construction planning teams can repeat and optimize over time.
The construction management process is broken down into 5 phases:
Initiation

Pre-construction

Procurement

Construction

Closeout
Each step comes with its challenges that construction managers must overcome. Let's dive into the details of each phase:
Initiation
Before any construction can begin, the initiation or planning phase involves crucial steps that outline each project's basic strategies and design specifications. This phase is one of the most important steps of the construction management process since it establishes a framework for all the tasks that follow.
Three steps occur during the initiation phase:
Programming and feasibility — the construction planning team outlines the initial goals and objectives for the project and produces a project initiation document (PID).

Schematics design — the team creates a detailed sketch of the project to be used for design development and research.

Contracts and documents — all paperwork is completed, including final drawings, specs, and other pertinent information, so bidders have the most accurate project details.
The most challenging features of this construction management phase are communication and defining objectives. Construction managers and construction project managers must facilitate communication across teams and key decision-makers to clearly define the project expectations.
Pre-Construction
When the bidding is done, and a contractor has been chosen to complete the work outlined in the previous phase, it's time for construction planning teams to enter the pre-construction phase. The process includes selecting the project team, examining the site, and getting approval from local authorities. Many individuals are involved in finalizing the budget, design, timeline, and project strategy.
Some of the key decision-makers and construction planning team members include:
Project manager

Field engineer

Safety manager

Superintendent

Contract administrator
There are many variables at play during the pre-construction phase, so creating a detailed plan with risk management built-in is a challenge that teams must overcome. At this stage, construction managers should consider all possible scenarios to develop a reliable plan and be as prepared as possible should disruptions or delays occur.
Procurement
The procurement phase is the construction management phase that holds the potential for the most challenges, especially in an evolving supply chain environment. This phase is where all the supplies, materials, tools, services, and resources are procured and scheduled for delivery.
Construction managers must coordinate deliveries with storage capabilities, environmental factors, and worker availability throughout the project. Any missteps during this phase can have costly consequences down the line.
Communication is crucial to avoid duplicate orders, over-buying, getting the wrong materials, and having suitable facilities to store and transport building resources to the job site.
Construction
Finally, this is the phase where construction takes place. Although construction is just beginning, this is the second to last construction management phase. After intense planning, documentation, compliance, and procurement, work begins to build projects according to the plans laid out in the previous steps.
Now it's time for the construction manager, contractor, and subcontractors to execute the project and satisfy the client's requirements. In addition to putting all the materials and resources together to build the outlined construction project, there are many steps and processes that occur during this phase of the process, including:
Safety inspections

Requests for information (RFIs)

Reviewing and approving technical submittals

Managing material transportation and logistics

Scheduling workers, including subcontractors and outside development teams
It is possible to eliminate many potential setbacks with proper planning and support. However, challenges are inevitable on a construction site. Perhaps the most challenging aspect at this stage revolves around personnel and scheduling.
Without adequate scheduling, crew members may not know what they should be doing for the day or execute construction improperly. Bad planning can also lead to stressful bottlenecks and costly delays.
Communication is a consistent thread throughout the construction management phases, and for a good reason. Transparent communication across key parties is essential for successful project outcomes.
It can be challenging to maintain control during construction between invoices, inventory, budgets, designs, blueprints, and revisions. But with the right software, clear communication, and a good planning strategy, most challenges can be seen from afar before they become front and center.
Closeout
After a construction project has been built and the client has received the final deliverables, there is still lots to do. The post-construction phase, or closeout phase, is the final step of construction management. Once the work has been completed at the job site, it's time to take care of some housekeeping like:
Completing punch lists

Demobilizing resources

Returning equipment rentals

Worksite clean-up

Subcontractors are released

Post-project review
The closeout phase is also an excellent time to analyze construction processes, break down any new challenges, and make notes to optimize the process for the next construction project.
Each construction management phase involves crucial steps that teams must complete before moving on to the next step. Construction managers can easily overcome many challenges through adequate planning. That's why communication and visibility are so important for construction managers and their teams.
Construction Management Systems and Software
There are many benefits of using digital tools like improved accuracy, better data management, and enhanced communication. But the construction industry has still been slow to adopt digital tools. However, a recovering economy has been driving innovation. More businesses than ever use digital systems and software to improve business processes, especially in construction management.
Construction management systems and software allow construction teams to adapt to the digital processes that vendors, suppliers, and contractors already use. Construction businesses that use digital tools typically see a 61% increase in revenue.
For example, construction project management software helps streamline projects by optimizing the project's timing, quality, and cost. Digital sensors and other connected devices and equipment can now use AI-powered tech for maintenance alerts, performance analytics, etc. Even blockchain has use cases in construction outside of using a bitcoin wallet to make transactions.
Digital contracts expedite tedious construction processes, and centralized construction management programs allow teams, stakeholders, and managers to avoid duplicating data or losing track of essential documents.
Types of construction management software
Here is a brief overview of some of the types of construction management software that can help organize construction teams:
Analytics software — provides real-time insights that construction managers can use to manage scheduling, time constraints, and procurement more effectively.

Drawing software - allows companies to easily upload, edit, and collaborate on drawing plans.

Enterprise resource planning software (ERP) — centralizes information and construction systems for complete visibility from end to end.

Estimating software — helps manage construction project estimates and proposals.

Project management software — streamlines daily tasks, project assignments, and communication.

Risk management software — helps construction managers mitigate risks both on and off the job site.
Each type has its own set of use cases and advantages to meet a wide range of needs across the many types of construction management practices. Your construction team may not need every one of these software tools to eliminate bottlenecks and improve project timelines.
Identify where you need to improve communication and construction processes within your organization and choose the appropriate construction management software according to your needs.
Benefits of using construction management software
There are many ways construction teams benefit from using a construction management platform at each phase of construction management. Here is an at-a-glance view of some of the main benefits of construction management software:
Data sharing and integrations

All information on a centralized platform

Streamlined project management

Team coordination

Task assignment

Transparent project timelines

Document management

Simplified budget management

Real-time status updates

Seamless communication

Improve efficiency and reduce waste

Remote project monitoring

Coordinate permits and inspections

Monitor RFIs and submittals

Streamline payroll and scheduling

Automatic document tracking

Signing and approval processes
There's no doubt that digitizing processes and eliminating redundant Excel records give businesses a competitive edge. But adopting tech tools such as construction management software takes time to adjust. When teams are willing to put in a little effort at the outset to get used to a different way of recording notes, signing contracts, and obtaining approval, they will see big results in the long run.
FAQs
What skills are needed for construction management?
Construction managers are expected to oversee countless activities and personnel while meeting expectations and delivering positive outcomes. They are responsible for every piece of the project's execution from beginning to end.
That's why it's so important that managers learn how to integrate the following construction management skills:
Analytical skills to develop project strategies and effectively resolve delays and disruptions in real-time.

Business skills such as administrative and accounting.

Management skills such as building strong team relationships.

Customer service skills that construction managers can apply to customer-facing and internal meetings, conversations, and deliverables.

Leadership skills to help motivate teams and coordinate activities to keep the project flow on track.
In today's construction environment, where materials sourcing, supply chain, and construction project management are increasing in availability, it is also crucial for construction managers to learn skills like:
Agile software

Familiarity with data analysis tools

Ability to track key performance metrics

Managing projects using construction management software

Cost analysis and budget tracking skills

Experience with risk management
But to be an effective construction manager, leaders need to have a healthy combination of technical skills, management experience, and soft skills. Regarding retaining construction workers, experts agree that the real value is in soft skills such as leading with empathy, giving workers adequate support, and allowing them to be heard.
What does a construction manager do?
A construction manager's job is to effectively manage construction teams to deliver projects on time and according to the client's expectations and budget. There are numerous project details that the construction manager must address throughout the project. Construction managers work closely with contractors, subcontractors, engineers, and architects to deliver positive outcomes.
Here is a list of some of the main roles and responsibilities of construction managers:
Maintain a budget

Project management

Meet milestones on time

Quality management

Coordinate teams

Lead safety efforts

Handle construction contracts

Define worker roles and responsibilities for each phase of a project

Set the project scope

Construction project scheduling

Allocating resources

Inventory management

Maintain communication between all involved parties