In today's fast-paced world, staying connected and in control of your data is essential, even while you are on the go. For organizations seeking to become a dynamic enterprise, empowering people to access the information they need, when and where they need it, will ensure your most critical projects will be successful.
With this in mind, we are thrilled to announce a revamped version of dashboards optimized for a mobile experience. Mobile dashboards drive workflows as a homepage for your applications, and also serve as a comprehensive reporting tool. Effortlessly access, analyze, and act on critical data and tasks wherever your work takes you.
Convenience in Your Hands
The days of toggling between multiple screens and struggling to find the information and reports you need on mobile are gone. Our dashboards functionality, available on both mobile and tablet devices, merges crucial data and actions into a single, unified interface. By consolidating key reports and data with actions and triggers for different workflows, users can now effortlessly access everything they need to be successful in their daily tasks from a single location without any additional taps.
The capability provides access to all widget types, which you are utilising for your desktop dashboards.
Report widget
The report widget allows builders to display all report types, available on desktop dashboards, on a single screen. This eliminates the need for end users to navigate through multiple screens to locate specific reports, saving time and effort and ensures a consistent experience across different devices, whether you're using a desktop, tablet, or smartphone.
We know that users need access to their data as quickly as possible - and on mobile, in as few taps as possible. This new layout presents your table reports as a grid instead of a list, allowing you to effortlessly scroll horizontally and vertically, enabling quick access to the information you need.
Additionally, you can now interact with all report types on the dashboard, including:
Table report
Charts (yes, in both chart visual and KPI formats!)
Kanban report
Summary report
Timeline report
Map Report
Calendar report
Button widget
The button widget enables seamless movement between different workflows within the mobile dashboards. Users can easily initiate and progress through different workflows, such as submitting forms, completing tasks, or accessing specific reports or pages. Additionally, all configurations for colors, icons and button labels are inherited in the mobile dashboards.
Search widget
The search widget allows users to quickly locate specific record or field. Instead of manually scrolling through multiple screens or menus, they can simply type in their query and access the desired information without unnecessary effort.
Rich Text and Web Page widgets
App Admins can enhance the experience further through the Rich Text and Web Page widgets.
Seamless and intuitive interactions
We've designed our mobile dashboards with simplicity and usability in mind. The intuitive interface ensures a seamless transition from desktop to mobile, providing a consistent experience across devices. To us, intuitive and user-friendly means fewer taps, no dead ends and options that are easy to select no matter your screen size. That is why for some of the interactions we have introduced new patterns that take advantage of the building experiences you are used to.
Tabs
Tabs allow you to maximize the available space by condensing related content into separate sections. Users can switch between tabs to view different sets of information, ensuring that the dashboard remains compact and focused on the relevant data for each tab. Instead of scrolling endlessly through a long dashboard, users can simply tap on the desired tab to switch to the relevant section.
The tabs on mobile are located in the upper part of the screen right below the name of the dashboard. Users can either scroll horizontally to locate the tab they need or they can utilise the button on the right side of the tabs bar to access the full list in a modal view.
Filters
Just like on desktop, you can filter all reports on your mobile dashboard at once with just a few taps. We've made it simple for users to interact with the various filter types, from choosing a date range to selecting multiple items from a multi-select drop-down.
Active widget state
As you scroll through a mobile dashboard, all report widgets now appear in a view-only mode to avoid unintentional interactions. You now no longer have to worry about opening a widget or navigating away to a record by mistake. Simply tap a widget to activate it and be able to interact with it.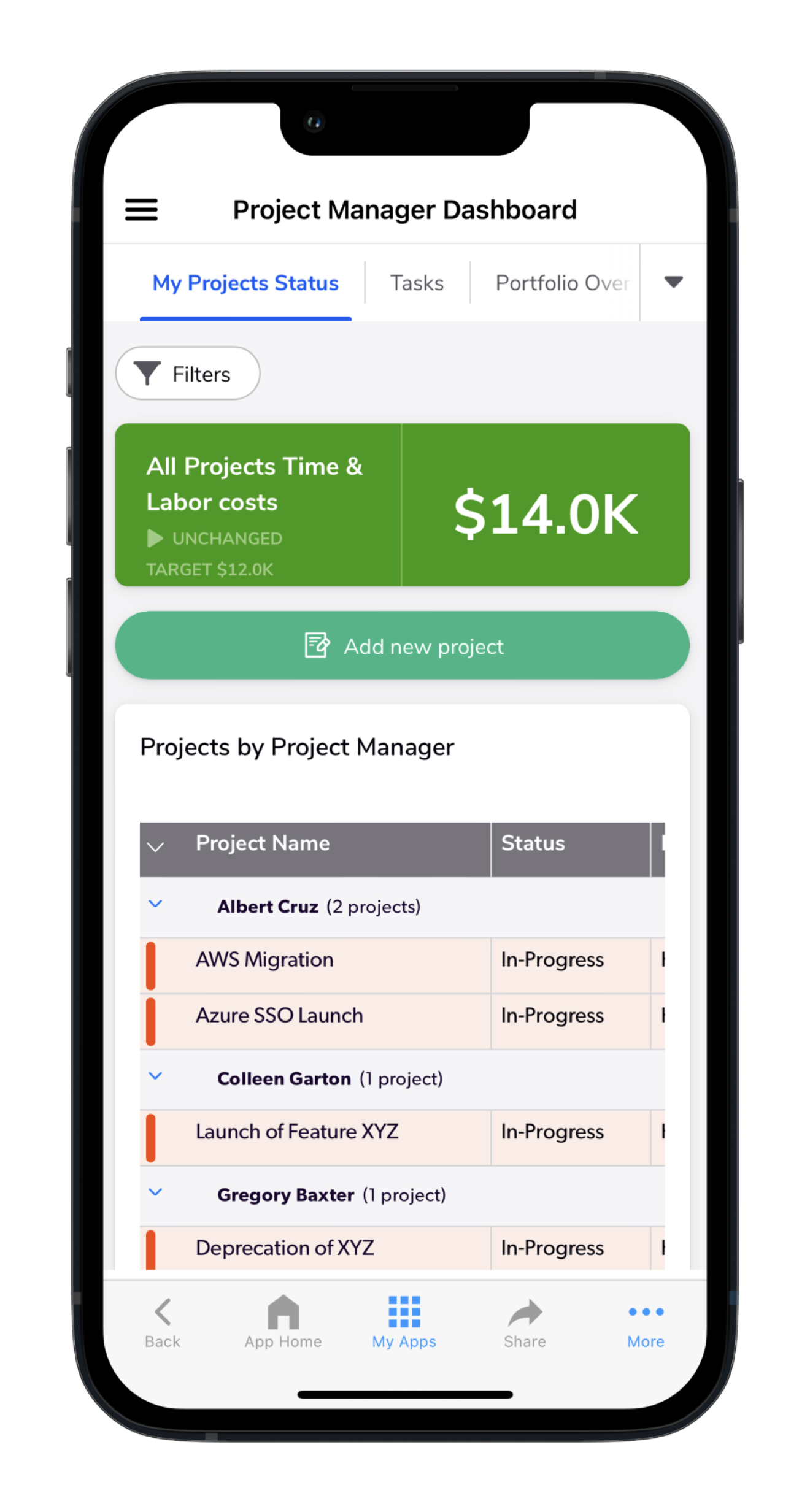 Assigning a mobile-specific dashboard per role
Just like other Quickbase mobile features, your desktop dashboards are automatically available on mobile devices without any additional building required. Without any additional efforts, users will be able to access on mobile every dashboard, which they use in their daily activities.
And to take complete advantage of the mobile experience, app admins can now set a specific dashboard for users on mobile.
At Quickbase, we are committed to empowering users to have constant and reliable access to the critical information and workflows they need anywhere and at any time. Quickbase mobile dashboards represent a significant step forward in providing you the reliable and convenient mobile experience you need to succeed. We encourage you to explore the possibilities, which this new capability provides, and build dashboards that perfectly align with your unique use cases and needs.