New behaviors, ways of working and technologies continue to enter our workplace at a rapid pace. Those who are not prepared with the proper knowledge, skills and mindset will be left behind. Please join Jacob Morgan, principal and co-founder of Chess Media Group, Forbes.com contributor, and authority on the future of work and collaboration, as he shares his insights and strategies on how to navigate and succeed in this new collaborative workplace.
It is anticipated that by the year 2025, Millennials will make up 75% of the U.S. workforce. This group are the people who grew up using social and collaborative tools to communicate and engage with each other. Unfortunately our organizations still use legacy technologies, have employees working 9-5 in a cubicle, and we still get 150-200 emails a day! This way of work is dying and a new collaborative workplace is emerging. But what does this look like? What are the career, non-technical and leadership skills you'll need to adapt to continue to succeed or climb the corporate ladder?
Register for this free live Webinar session, Tuesday, October 22, where Jacob will explore these topics and leave you with valuable takeaways you can practice in the workplace. UPDATE: Register for the OnDemand Recording, here or below.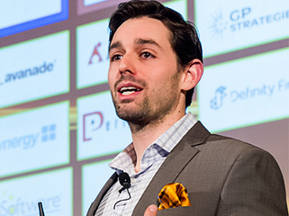 Why you need basic project management skills and how to improve them
The importance of leadership skills in today's workplace
How to flex to more flexible work environments
How you manage your projects and process matters more than ever
Keys to sharing data and information effectively
Following Jacob's presentation, Kirk Trachy, business productivity consultant from Intuit, will show you how you can implement some of the ideas Jacob shared within a collaboration tool like QuickBase to improve the way you and your team get work done.
TWEET BONUS: 150 attendees will be eligible to receive a FREE copy of Jacob's book, The Collaborative Organization: A Strategic Guide to Solving Your Internal Business Challenges Using Emerging Social and Collaborative Tools. Click the following Tweet button to share the event on Twitter and be entered into a separate drawing to increase your chances of winning!
Jacob will be answering questions during the live Webinar Q&A. After the event, we'll choose additional questions to answer in a follow up blog post and include all Webinar assets. Follow @IntuitQuickBase and use hashtag #newworkplace to reference the event.
About Jacob
Jacob is the principal and co-founder of Chess Media Group, a management consulting and strategic advisory firm on the future of work and collaboration. Jacob is also the  author of the Amazon best-selling book, The Collaborative Organization which was published by McGraw Hill in late 2012. 
The Collaborative Organization is the first and only comprehensive strategy guide on emergent collaboration in the workplace and has been endorsed by global leaders such as the CIO of the United States of America, CEO of Unisys, CMO of Dell, Chair of the MIT Sloan Management Review, CMO of SAP, CIO of ManpowerGroup, the founder of Craigslist, and many others. Currently he has a column for Forbes where he covers the future of work and collaboration and runs the popular blog TheFutureWorkplace.com. Jacob has been featured in outlets such as the Wall Street Journal, INC Magazine, USA Today, Fast Company, CIO.com, Information Week, Mashable, and many others. You can connect with Jacob on Twitter @JacobM
Posted in
Team & Project Management