Simple Task Manager
Manage tasks to stay organized, productive, and effective with this simple task manager app. This is a simple project management tool that's easy to set up, download, implement, and encourage your team to start using right away. With its user-friendly functionality and customizable features, this is the perfect way to start exploring the range of QuickBase's capabilities. Download it to start tracking processes and staying on top of the important workflows for your business.
Features of This Task Manager App
You can use this task manager software to complete any of the following important business functions:
Easily see the status of every task in your queue and quickly update the important details as work progresses
Delegate and distribute tasks to your team while maintaining visibility and reporting capability around the whole process
Consolidate all of your information into one cloud-based database; you can even sync from other apps
Allow teammates to mark off task completion with mobile devices like smartphones and tablets
Customize forms and fields to match your exact processes
Crafting the Right App for Your Business
While we call it simple, this solution is robust, with many features that can help businesses tackle their task lists and eliminate the monotony and disorganization of spreadsheets and databases saved on individuals' hard drives. With very little development, you can get started with this system right away, or you can tweak and modify this task manager software to line up perfectly with what you want in a low-code environment. With QuickBase, you have the power to either use this software straight out of the box or develop a custom solution that's right for you and your team.
This is the perfect tool for those hoping to better manage a series of tasks on a regular basis with multiple team members or stakeholders. While it has many complex capabilities, this task manager software is best for those looking for a simple solution. If you need more advanced capabilities, try any one of our other software solutions for project management now. Then, you can also track entire projects and have access to more reporting capabilities. Online task manager applications range in features, so contact us today if you want to know which tool to buy, or simply download it now and try it out for free.
Collaborate more with QuickBase using this simple task manager tool now.
Try The App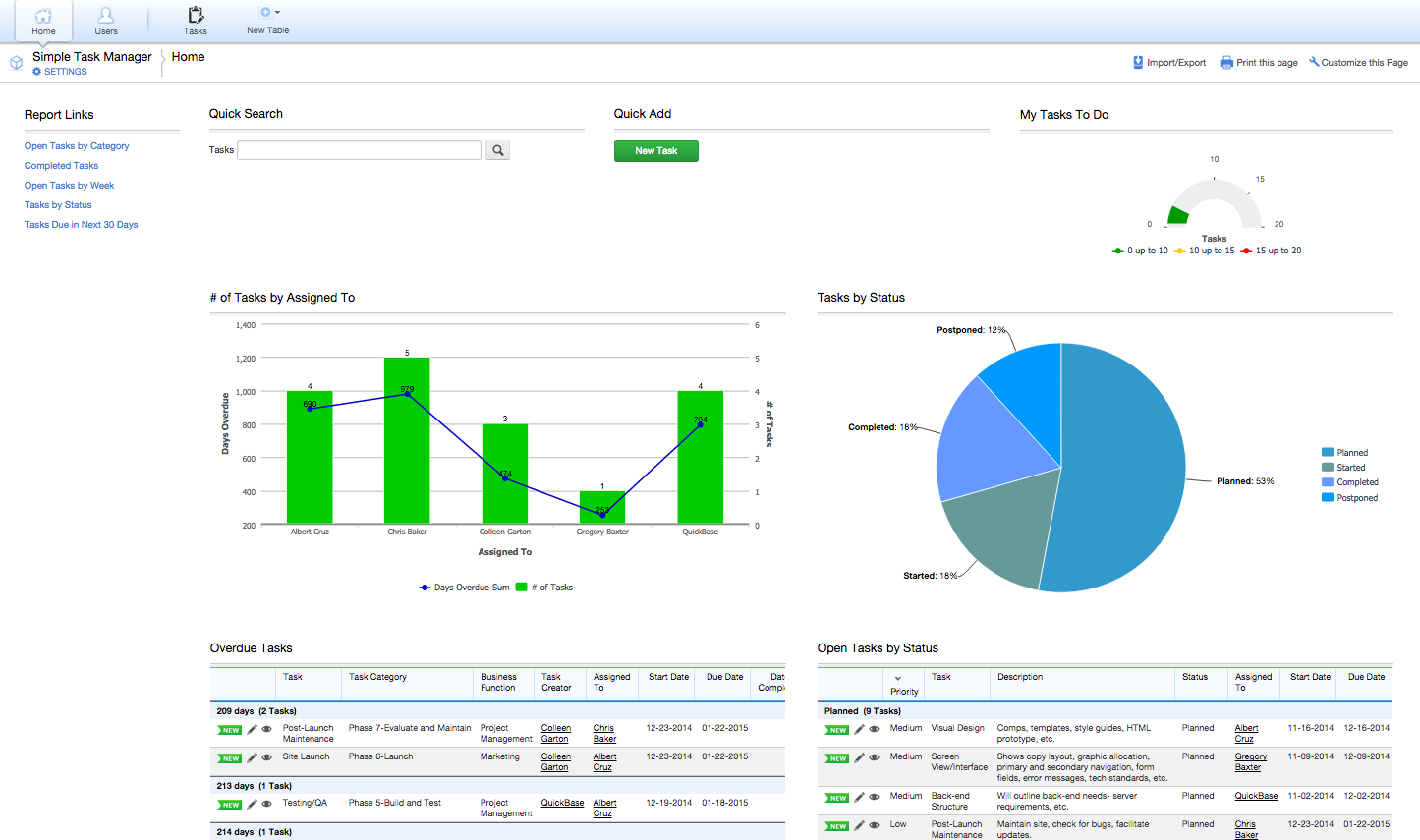 Write A Review