Simple Rep Commission Tracker
Track your teams sales and commission with this easy-to-use Simple Rep Commission Tracker app from Quick Base. This commission tracking template is the perfect start to a streamlined source of truth for both sales reps and managers to track individual and company-wide performance. Use drag-and-drop dashboards to manage the most important metrics for your company and visualize performance in the way that works best for your business. With two basic tables and a dashboard built to track monthly and yearly performance, this app is customizable to support your unique business needs and processes.
What you can do with this business app:
Import current sales rep and commission data for rapid app customization
Track sales rep performance monthly to compare individual success and generate benchmarks
Drill down into monthly and yearly rep performance to understand trends and accurately forecast
Need more customization to fit your unique processes? Try customizing to:
Assign reps to sales territories/teams to deep dive into performance by category
Generate reports to visualize individual sales rep performance by team, territory, time employed, role, etc.
Utilize various user views to personalize dashboards by employee role to streamline user experience
As a template, this pre-built simple rep commission tracker can serve as a grab-and-go solution, allowing you to implement your new commission tracking software with very little development and no coding necessary, or be modified to match how your team works. Download this commission tracker template to see how quickly you can create a central location for monitoring your teams performance and focus on creating value for the customers!
Try The App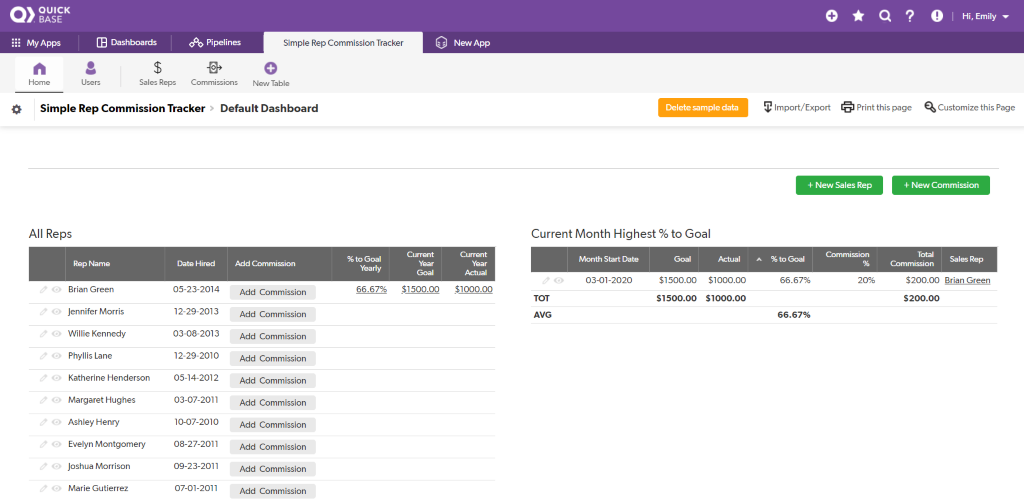 Write A Review