Customer Call Log
Help your team track incoming calls to ensure every request is resolved, then report by department, employee, severity and more with this customizable Customer Call Log App. This call log template is the perfect start to a streamlined customer service arm for any business. Use drag-and-drop dashboards to manage the most important metrics for your company and update them as they change over time. With one basic table, multiple pre-built reports, and various user settings, this phone call log app is customizable to support your unique business needs and processes.
What You Can Do with This Business App:
Create and view unresolved calls in one central location
Assign customers to support staff or care employees
Record work performed and time spent responding to requests
Track labor costs to accurately budget
Use predefined reports by department, employee, quarter, severity, and type
Calling for Better Solutions with QuickBase
Need more customization to fit your unique processes? Try customizing to:
Create Kanban view of call status to visualize open tickets
Color-code tables and reports by responsible employee, severity, type, etc.
Track time-to-completion of tasks for accurate forecasting by call type
Set up email trigger to alert employees upon new call creation
Add fields, records, and tables to fit your unique processes depending on desired complexity
As a template, this pre-built call log tracker can serve as a grab-and-go solution, allowing you to implement your new phone call log software with very little development and no coding necessary, or be modified to match how your team works. Download this phone call log template to see how quickly you can connect your team and data to drive efficiencies across your call center and focus more time on creating value for your customers!
Try The App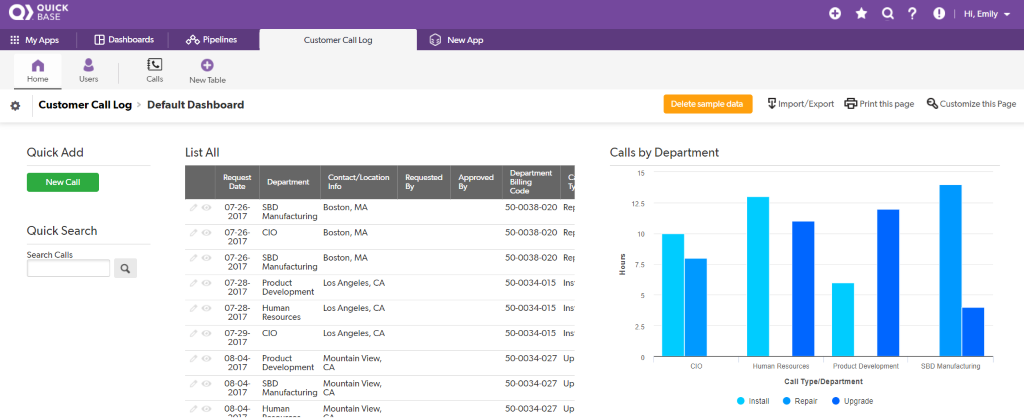 Write A Review