Complete Sales Manager
Do you want a solution that will allow you to see at a glance how your sales team is performing? The Complete Sales Manager App from QuickBase allows you to view the entire sales funnel from top to bottom and see the activities of each one of your sales representatives. Get the big picture while still being able to zero in on specific contact information, phone activities, documentation, locations, and more. Also, pull your most important potential lead sources and campaign information so that you can more actively find new potential connections.
This is one of QuickBase's customizable templates and it is one of the most comprehensive solutions for a sales manager. It gives managers all of the information they need to inspire, influence, direct, and help their team members. With one sales app, you can see everything from contact data to company information to new opportunities to representative activities to campaign data. Accurately see how often a B2B lead has been contacted, and keep all of your documents in one place. Note that you can sync other apps with QuickBase so that you can keep all of your information consolidated.
As a mobile CRM app, this system offers a cloud-based database that can be accessed from anywhere at any time. Team members can update information on the go as long as they have smartphones or tablets, making it the perfect app for sales teams that need to travel to multiple locations. This complete sales app creates a dynamic, collaborative online workspace, allowing representatives to be open and transparent with each other at every stage of the sales pipeline. Implement QuickBase's Sales Manager App if you want to increase clarity and collaboration in the sales process. This solution is customizable, meaning that you can create your own drag-and-drop personal dashboard to see the information you find most important first. By effectively creating your own solution in a low-code environment, you can develop a custom CRM without having to negotiate with your IT or programming department. Craft your dashboard for your business needs and gain visibility and detailed reporting on sales opportunities and pipelines. Manage B2B leads, accounts, and contacts for a comprehensive view of your entire sales organization.
Download this CRM app for sales managers now if you need a comprehensive sales solution, or browse any of our other 800 applications to find the software that's perfect for your business.
Try The App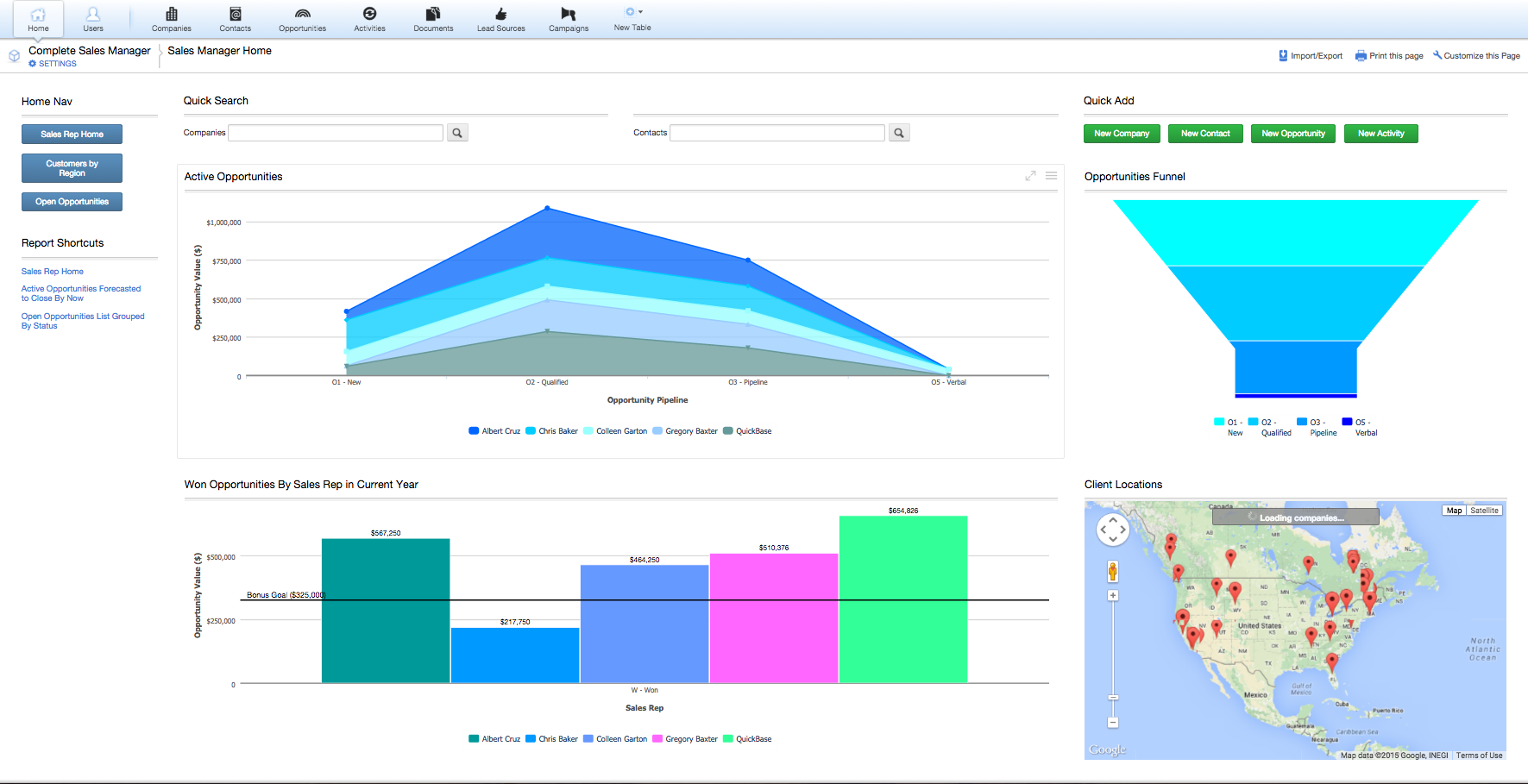 Write A Review