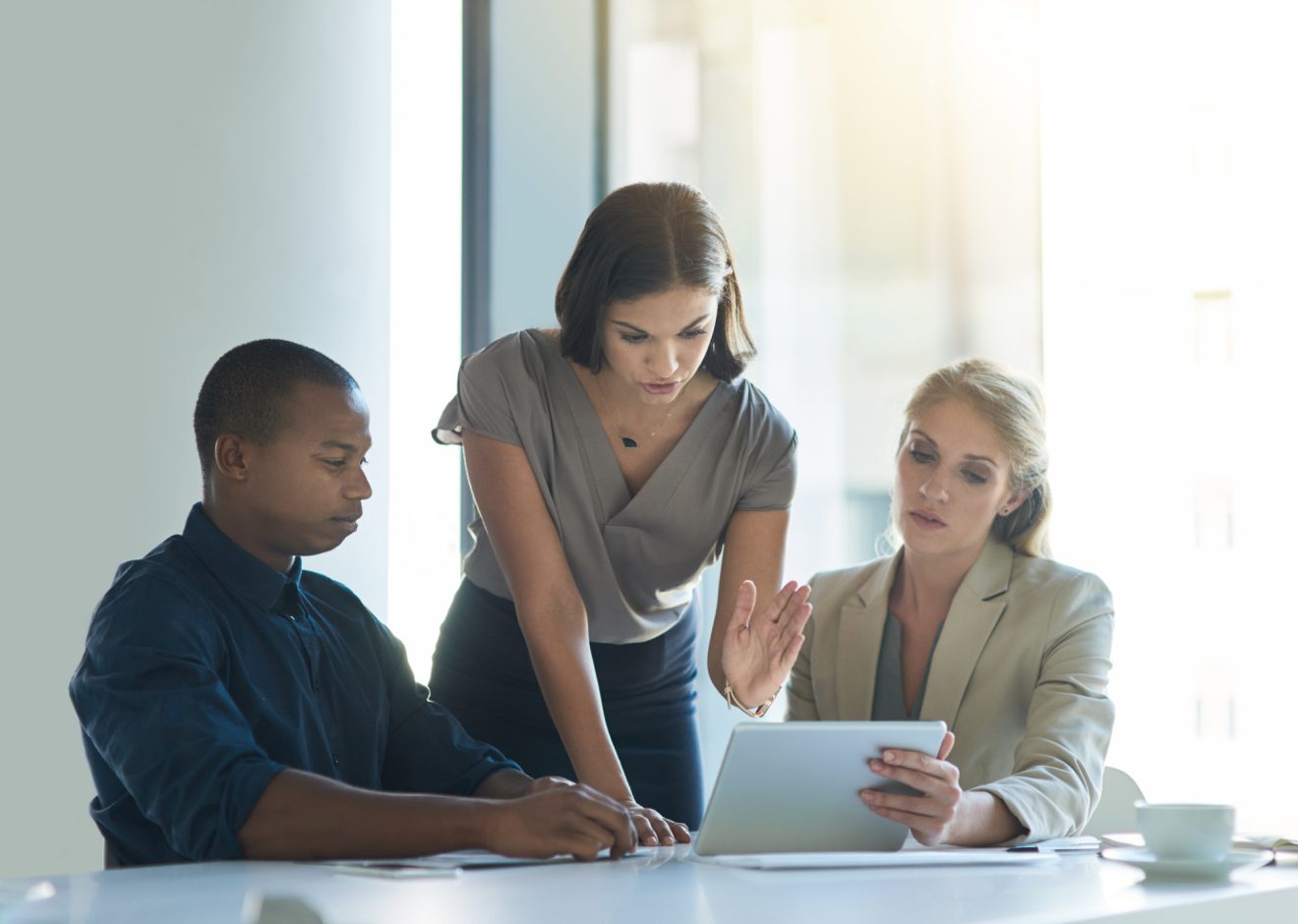 Collaborative work management software makes it easier for people and processes to work together.
Traditionally, project management software has focused on local or regional projects and individual performances, rather than creating a culture of collaboration throughout an entire organization. However, with the rise of the hybrid workplace, organizations now require a new breed of technology to facilitate and streamline collaboration between users and teams on a much more global scale.
Collaborative work management software (CWM software) is the next step in the evolution of project management tools. As a central hub for all users across an organization, a superior CWM platform empowers employees to easily collaborate in real-time, communicate and share data cross functionally, reduce duplicated work, and connect previously siloed systems.
Quickbase, a comprehensive platform for no-code application development, offers a customizable CWM solution with centralized dashboards, robust integrations, and easy-to-use tools that make collaborative work fast, efficient, and transparent.
Four common challenges of traditional collaborative work
These factors make it increasingly challenging to manage collaborative work effectively.
Information silos. Too often, the information needed for collaboration is locked away in silos created by different departments and technologies. Without an easy way to unify data, employees and teams will spend a great deal of time searching for the right data and attempting to integrate it on their own with varying degrees of success.
Visibility. When collaborative work cuts across a variety of organizations, departments, portfolios, and teams, it can be impossible to maintain visibility into every aspect of an initiative.
Multiple, one-size-fits-all tools. Because most collaborative work management software solutions are difficult to customize to the unique needs of an organization, IT teams often end up adopting half a dozen tools or more. This proliferation of solutions only adds more complexity to the difficult process of organizing projects and tracking performance.
Manual processes. Traditional project management software that requires constant attention and manual intervention will inevitably cause bottlenecks and increase inefficiencies. Superior collaborative work management software will automate processes to streamline collaborative work.
Collaborative work management software, like Quickbase, is designed to address these challenges head on, so collaborative work is more streamlined and less stressful for even the most complex projects.
Quickbase as a collaborative work management software
Quickbase works as a business management software with an emphasis on collaboration. The software's main goals are to remove fragmentation from workflows, unite silos in an efficient ecosystem, and create seamless connections between team members to manage collaborative work more efficiently.
With the Quickbase's collaborative work management software, you can:
Share information easily. Our technology makes it easy to share data across departments and organizations, managing it securely from one centralized place, no matter where it comes from. With Quickbase, employees and teams are empowered to find the data they need quickly and efficiently, rather than wasting time looking for the latest versions of spreadsheets or app-toggling in a frantic search for information.
Unify data on one platform. Simple and secure data-sharing translates to more informed decision-making, greater accuracy with timelines and budgets, and easier collaboration across teams.
Deliver results on time and within budget. Quickbase collaborative work management software helps control the resources that power the delivery of your projects, including the intensive efforts required to deliver on the final milestones. Seamless integration, centralized information, and greater visibility help power work through to completion to ensure that projects and delivery of physical assets are as close to planned projection as possible.
Enjoy end-to-end visibility. With the ability to see all aspects of a project in one place, you can anticipate roadblocks more easily and keep complex initiatives on track.
An in-depth look at the Quickbase platform
As an easy-to-use application development platform, Quickbase helps accelerate continuous innovation by enabling secure, controlled development at scale on one common platform. Quickbase unites business and IT teams, offloading development to business technologists while allowing IT to control and govern applications and software development.
Features of Quickbase include:
No-code and low-code development. Quickbase offers no-code development for users with no background in software development, and low-code capabilities that make development more efficient for users with development skills. With Quickbase, your teams can quickly and easily manage complex projects while avoiding the usual expenses of developing, deploying, and maintaining applications.
Automated workflows. To quickly connect existing data and avoid duplicating efforts across teams, Quickbase integrates with existing platforms using Pipelines. These are connections between Quickbase and SaaS tools like Slack, Jira, and MailChimp that automate workflows by triggering actions in one tool when something happens in another.
Continuous deployment. Sandbox capabilities allow employees and developers to push changes to applications with taking them off-line. You can update apps, transform data, or change schema without downtime.
Why organizations love Quickbase
Quickbase offers operational agility by making application development accessible to developers and non-developers alike. Applications within Quickbase are configured rather than coded, allowing users to quickly create bespoke solutions – no matter how much or how little experience they have in creating applications. This makes it easy for users to create solutions faster and with fewer resources, using an integrated set of tools and services to build and automate work and data flows that drive business processes.
Quickbase's proven approach and best practices for development and automation are based on 20+ years of experience empowering non-coders to solve business problems through custom-built workflow software, process management software, enterprise CRM software, and more. A full set of enablement services and 24/7 customer support help to ensure successful development and automation efforts for any organization.
FAQs
What is collaborative work?
Collaborative work relies on the efforts and contributions of employees from various teams and departments within an organization to achieve a specific business outcome. Collaborative work can frequently help to solve problems more quickly, bring more flexible and creative solutions to the table, and drive greater productivity within the organization.
What is collaborative work management software?
Collaborative work management is the practice of organizing the efforts of employees throughout an organization as they work together on a project or shared objective. Collaborative work management software may include shared dashboards, unified data, tools for communication, document sharing, task management, performance tracking, and more.
What is a no-code or low-code platform?
No-code and low-code platforms enable users without software development experience to build sophisticated and highly effective applications. No-code platforms offer a visual, step-by-step process with wizards, menus, and point-and-click functionality that allow users with no development background to quickly build custom applications. Low-code platforms make development more efficient for professional coders and users with some development skills. Low-code platforms use declarative, visual modeling tools to reduce the amount of coding required to build complex, enterprise-grade apps.