Simple Contact Manager
It's time to connect with the right people at the right times. With this simple contact management software, you can keep an entire sales, customer service, or outreach team organized. Eliminate spreadsheets and outdated databases when you use this better way of tracking contact information. Keep track of phone calls, emails, and every type of communication in one consolidated online database, which can be updated even on mobile devices like tablets and smartphones. Pull information from other sources, store your important documents like invoices or forms, and sync with other cloud-based apps automatically. When you have all of your important contact information and communication data in one place, you can become more successful at staying in touch.
Whether you plan to make new connections, forge new business relationships, keep in touch with current clients or vendors, or simply coordinate outreach in a more reliable way, this contact management software can help your business get the job done. For teams of representatives looking to reach out to influencers, leads, or stakeholders, this simple CRM app provides a collaborative online environment. It can also help your representatives plan, allowing them to set up future appointments. They can plan ahead and reconnect with clients, vendors, or customers later in the sales funnel or customer lifecycle and schedule out appropriate touch-bases in the future.
There are several types of business settings where a simple contact application like this will fit well:
Small- to large-sized sales teams
Call centers or customer service organizations
Outreach offices (such as for nonprofit organizations, colleges, or political campaigns)
Vendor-coordinating offices and event planning groups
Other types of organizations that require frequent contact with a widespread group of people
This simple contact management software is a great solution to get started with right away, but remember that with QuickBase, you can always customize your solution with drag-and-drop dashboards, which will allow managers to see the status of every client communication. Without spending months of man-hours in development, you can create a custom solution just for your processes!
But if you'd like a different app solution for keeping track of your contacts, try the Contact Management Portal template or any one of the more than 800 business app templates, which offer a great jumping-off point for crafting a solution with QuickBase.
Try The App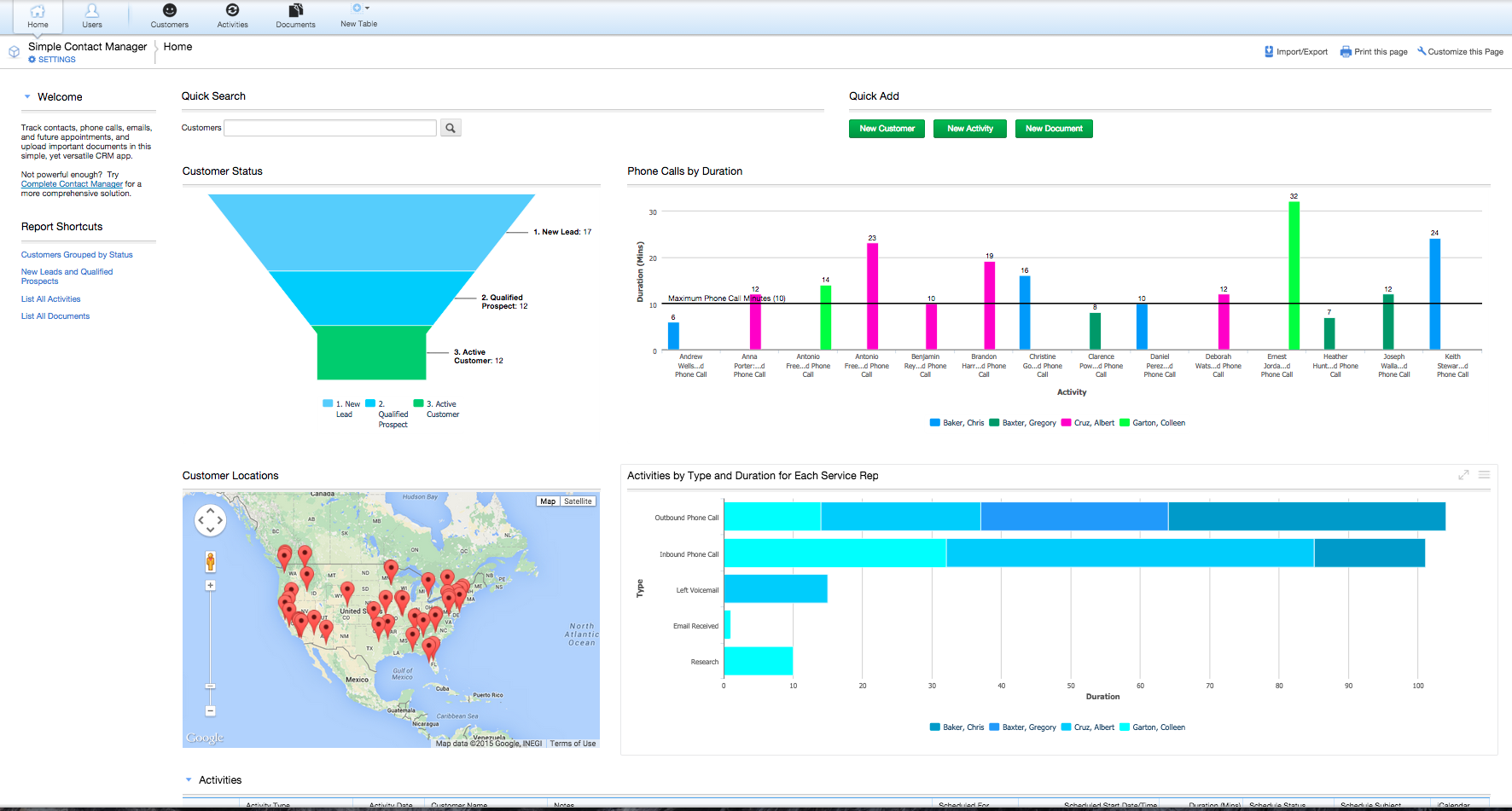 Write A Review