Simple Asset Tracking
Know where every piece of your inventory is at all times when you start managing every asset more effectively. This asset tracking software provides your business with a central place to organize your business' inventory and property, with dynamic features that allow you to do the following:
- Allow your entire team to track information in one mobile, cloud-based asset tracking database, which can be used with smartphones and tablets
- Control the access of multiple users, who can inform the entire team of updated inventory information as changes happen; create a collaborative online workspace for your employees or vendors
- Organize assets comprehensively; track locations, statuses, and maintenance histories, and provide at-a-glance data on the most valuable information for each item
- Pull data from other apps and sync information automatically in this one asset tracking database
- Group assets into categories for quick reports; find assets organized by vendor, date of purchase, or maintenance schedule
- Customize dashboards with forms, charts, and other fields so that managers can find and track the most important updates as they occur
This downloadable application can either be used right out of the box or it can be molded or updated into something that's perfect for your business. That's right; you can use this simple asset tracking app as a template for customization and develop your own software solution that more effectively matches your organizations needs and processes. This can be considered a jumping-off point for exploring the greater QuickBase platform, where you can develop your own solution in a low-code environment. This means that you can get started with asset tracking software that fits your processes without having to have your own internal IT group or programmers spend months crafting a solution from scratch.
Choose to download this simple asset tracking software if you're hoping to track every asset your business deals with effectively. This solution is often used in a variety of business scenarios: tracking computers, laptops, and equipment in an IT department; keeping track of tools and goods that are rented out for the day, such as in construction; keeping track of sales inventory prior to purchases; and much more. If you need a different solution, consider any one of our 800 other apps for business needs.
Get rid of spreadsheets and ineffective databases; consolidate your information with one simple asset tracking app. Implement our online tool along so that you can save money, reduce losses, and have the comfort of knowing the status of every one of your business assets!
Try The App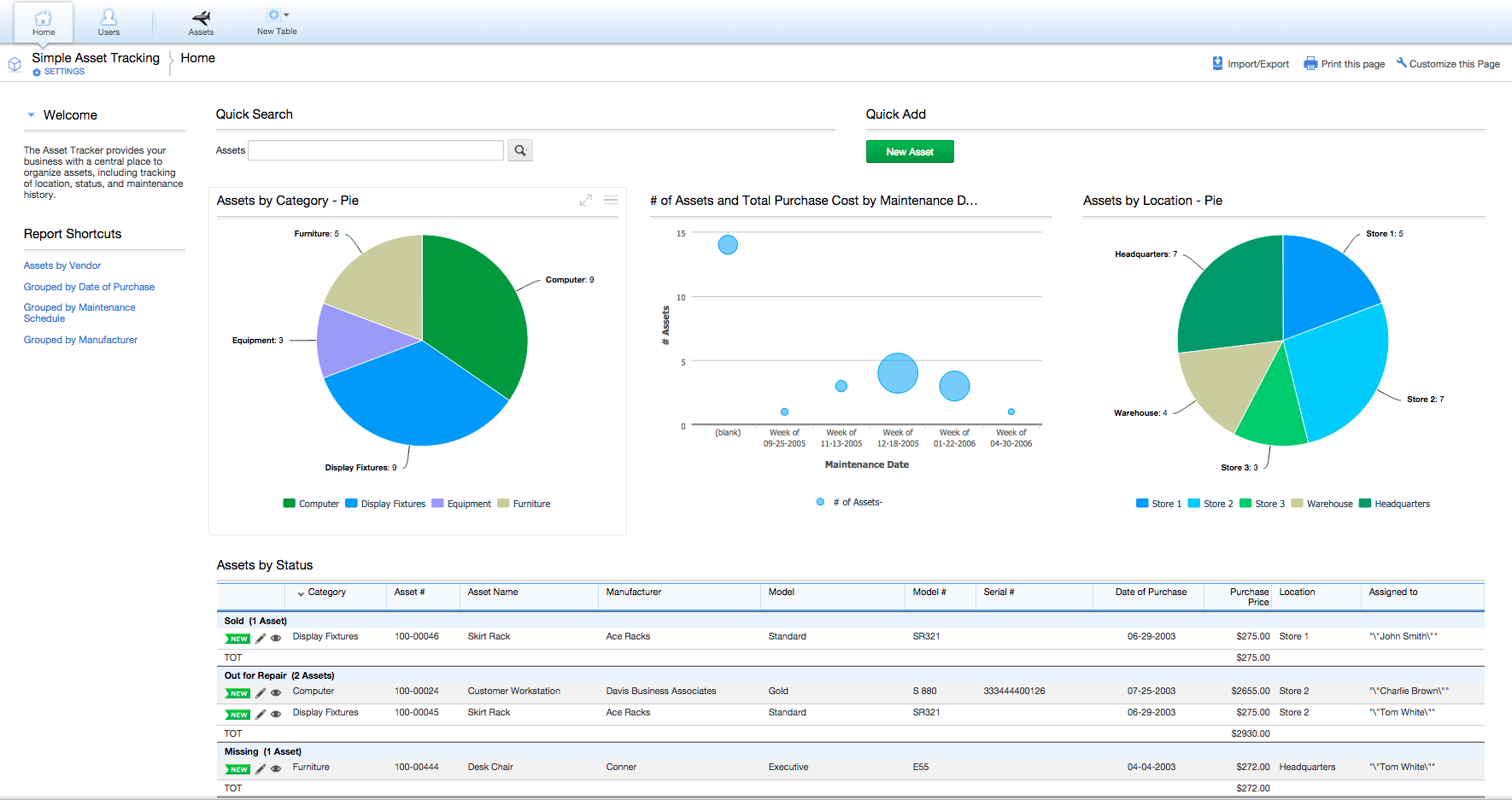 Write A Review