Project Portfolio Manager
The project portfolio manager app allows you to examine a collection of projects as if it were a portfolio of investments. This high-level overview of projects in progress is most useful for business owners, executives, board members, and managers trying to track their teams' tasks, finances, and goals. The portfolio can be examined along many dimensions, such as present value, project costs, headcount, or project status, allowing you to make sure the amount of money and resources spent on the various projects in the portfolio are consistent with the business priorities of the company. While using this app, decision-makers can actively ensure that every dollar and man-hour is spent on the organization's most important business goals and that teams have the resources they need to meet those goals.
Invest in Your Own Organization Wisely
With the project portfolio manager application, you have access to a unique window into your organization's processes, allowing you to have all of the correct and consolidated data you need to make direct decisions about which projects to prioritize. You can see clearly your organization as a financial investor would and decide to parcel out resources as if you were making key investments (which you are). You and your team members can then make better, more informed project management decisions for the greater financial health of your organization.
See Project Data at a Glance
This project portfolio software allows you to view important data on several key fields: project overviews, resource projections, resource pools, accountable project leaders, approvals, expenses, and important documents. From start to finish, each project can be actively and closely tracked. When you need a high-level overview, though, the project portfolio manager app also allows you to view the KPIs you find most important with drag-and-drop, custom, personalized dashboards. Develop the software that fits your business processes without needing hours of coding or IT help.
Anticipate and Adapt with Key Insights
Our project portfolio software is a comprehensive project management solution, one that allows you to work with your team of leaders to anticipate drops and increases in resources and adapt quickly. In an online, mobile, cloud-based database, your teams can stay up-to-date and informed. This is one of our most robust project management apps, but if you have a different need, browse our more than 800 other applications now. Adapt, stay informed, and do more with the project portfolio manager app now!
Try The App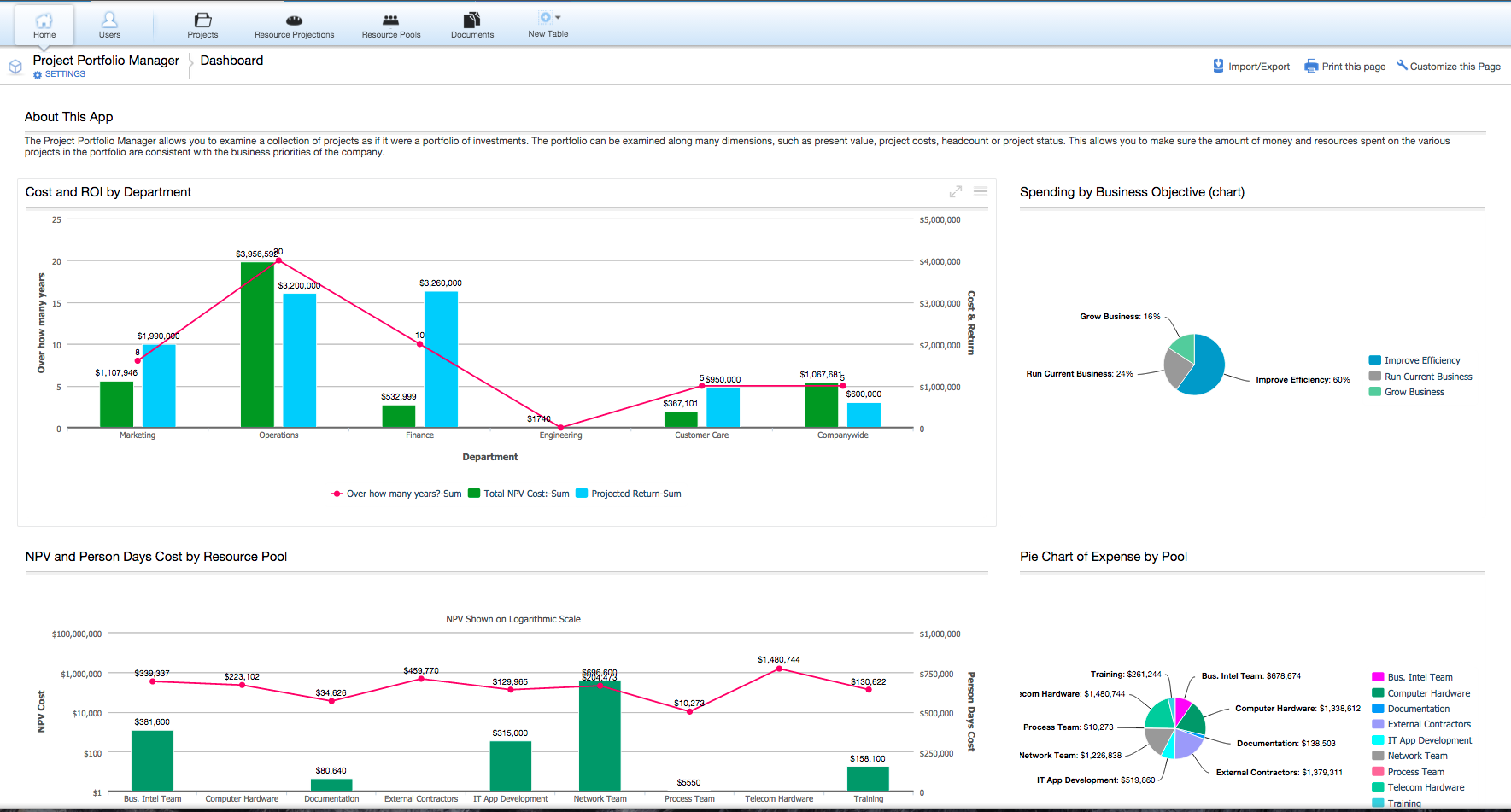 Write A Review