Employee PTO Calendar
Consolidate your businesss vacation/PTO calendar with this Employee PTO Calendar application from Quick Base. This PTO calendar template provides one central location for employees to submit vacation requests, managers to approve or deny requests, and all employees to see remaining balances. Customize this app to include the PTO types, employee groups, and typical vacation balances used by your business, and much more. Use drag-and-drop dashboards to quickly visualize PTO usage by employees and manage real-time requests. Start with 2 basic tables to organize your data and use this flexible PTO template to fit the needs of your unique business.
What you can do with this business app:
Request time off and access a real-time centralized calendar report
Allow employees to view PTO approvals/denials along with any manager notes
Utilize user settings to manage permissions in order to protect privacy of employee information
Create central place for employees of all scale to align on PTO balances
Need more customization to fit your unique processes? Try customizing to:
Trigger notifications via email for new time off requests as administrator or acceptance/denial as employee
Color-code reports by type of PTO or employee department for easy visualization
Upload spreadsheets of current employee data for rapid data migration
Add logic for complex PTO accruals and automatic starting balances based off role characteristics
As a template, this pre-built employee PTO tracker can serve as a grab-and-go solution, allowing you to implement a centralized HR solution with very little development and no coding necessary, or be modified to match how your business works. Download this employee PTO template to see how you can streamline your HR processes and focus more time on creating value for your customers!
Try The App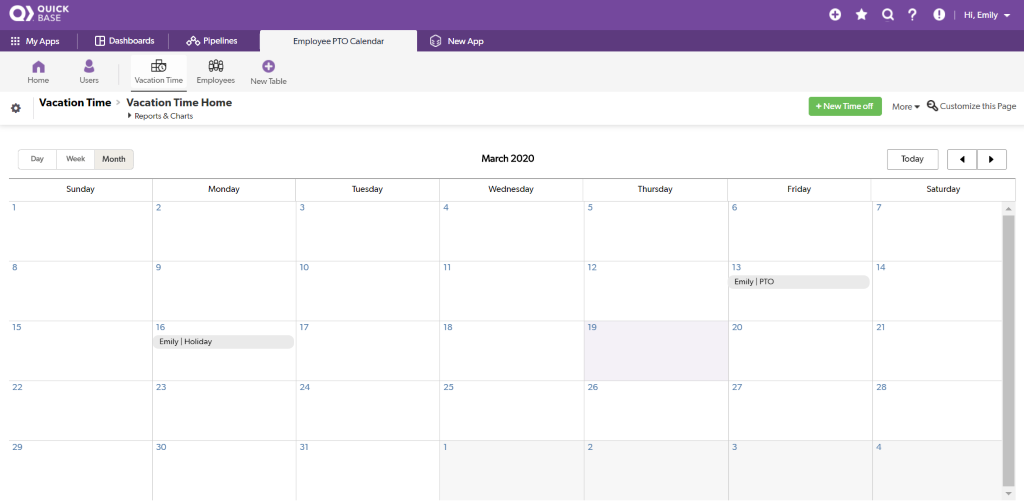 Write A Review