CRM Solution
The CRM solution manager is a simple, easy-to-use, and ready-to-download app template from QuickBase. It is custom-built for sales teams and businesses hoping to track contacts and opportunities. As one of the more than 800 business applications in our app library, this option combines a CRM and project management software solution into one sleek design. With it, you can track your most important data that can help your sales endeavors become more successful, including the following:
Account data, including contact and company information
Important and upcoming opportunities and most probable leads
Activities of sales or service representatives to connect with the potential customer or client, like phone calls and emails
Important documents like forms and signed contacts
A Mobile CRM Workspace
Use the CRM solution manager to track your sales contacts and opportunities in one easy-to-manage place. The database lives in the cloud and can be accessed with smartphones and tablets, making it the perfect solution for mobile sales groups. So whether you're operating out of one office or multiple locations, this can serve as your CRM. Management software like this creates a safe and transparent online workspace in the cloud and often, as a result, a collaborative attitude among team members.
A Dynamic Solution for Managers
Further customize this template if you want to develop a solution that matches your exact business processes without spending a lot of in-house resources on crafting a custom CRM. Management software from QuickBase is designed to be updated, tweaked, and changed on the fly in a low-code platform that's intuitive for business managers. Use drag-and-drop features to create a dashboard that will give you a window into your team's status with metrics on opportunities, activities, and key contacts.
Do More with QuickBase
Wondering if this is the right CRM and project management software for you? This option is one of our apps thats great for people starting out with QuickBase. For small-to-medium-sized businesses or large sales teams, this CRM app offers the simplicity and easy-to-use functionality that many are looking for; however, if you need a different solution, see what other sales apps we have to offer now.
Try the App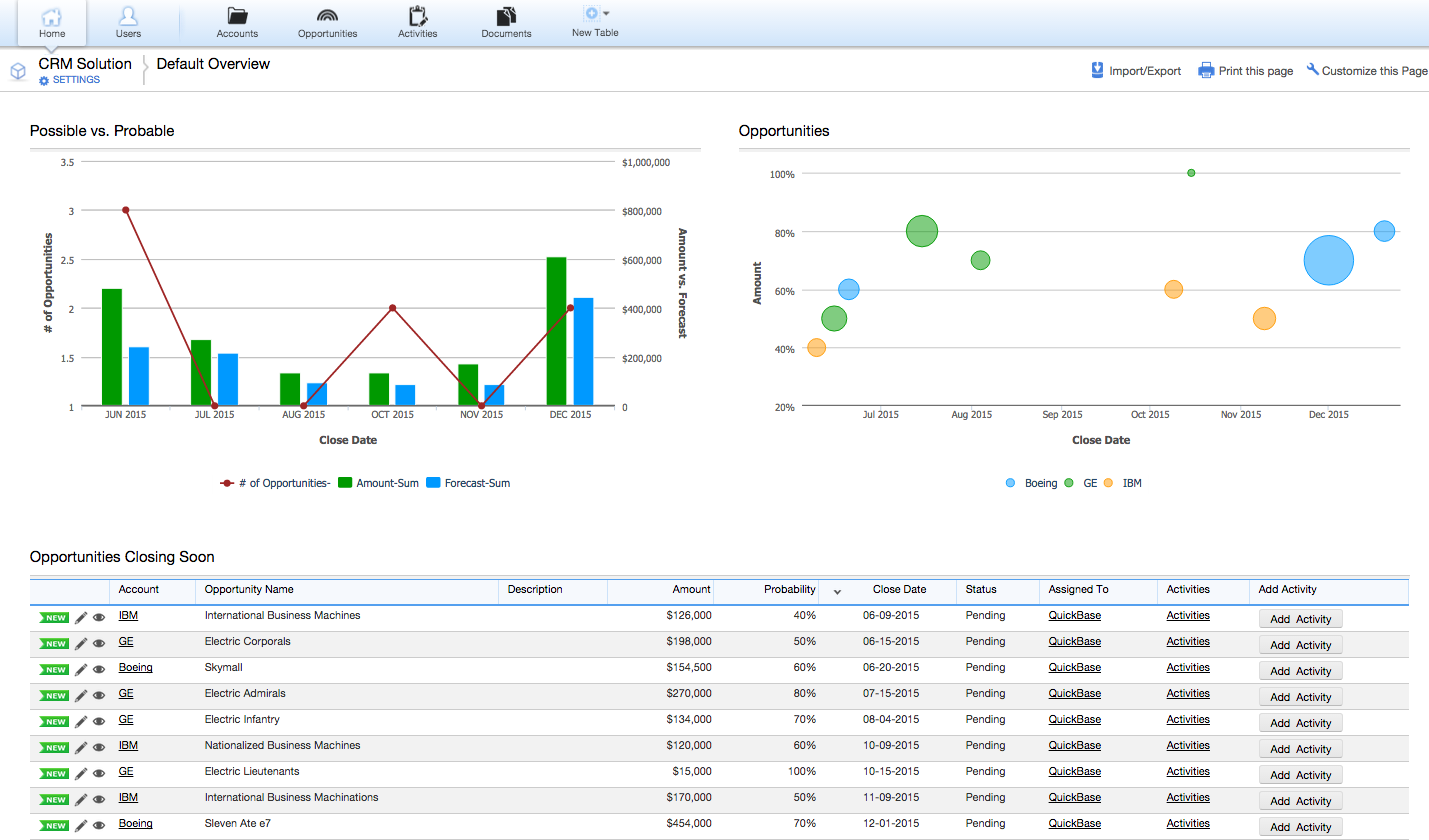 Write A Review